Hulu a atins 1.5 milioane de utilizatori
Hulu este platforma de video on demand din Statele Unite. Daca nu stiti ce e video on demand, e un fel de Voyo. Tocmai au anuntat pe blog ca au atins 1 milion si jumatate de utilizatori platitori de abonament. Daca ne gandim ca un abonament la Hulu este de doar 7.99 de dolari, am putea calcula cam cat platesc oamenii aia. Insa nu e doar atat.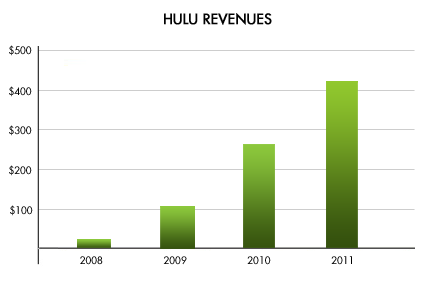 – We grew the business 60% from 2010 to approximately $420 million in revenue.
Adica 1.5 milioane de abonati au generat 420 de milioane de dolari, de unde rezulta ca fiecare a cheltuit cam 280 de dolari pe platforma Hulu. WOW! Like WOW!
Si repet o informatie care ma obsedeaza, dar e o informatie pe care nimeni din Romania nu o baga in seama. In 2010 cand Statele Unite au trecut la televiziunea complet digitala, consumul de televiziune a crescut instant cu 30%. Noi inca lipim camerele video cu autocolant si inregistram pe casete mini DV, in timp ce toata lumea trage pe hard-disk in cel mai rau caz.