Akamai: The State of the Internet 2010
O crestere cu 6.6% a conexiunilor de internet, aproximativ 530 de milioane de IP-uri unice s-au conectat in serverele Akamai in ultimul trimestru al anului 2010. De asemenea si conexiunile mobile s-au dezvoltat, vazandu-se o viteza mai mare de internet pentru fiecare utilizator mobil.

De unde au fost pornite cele mai multe atacuri cibernetice, iar mai jos topul tarilor dupa numarul de IP-uri unice.

Din fericire Romania se mentine pe locul 4 dupa largimea benzii de internet sau a vitezei de download fata de serverele Akamai. Hai ca se poate, dar inca mai e mult de invatat si mult de muncit pentru internetul romanesc.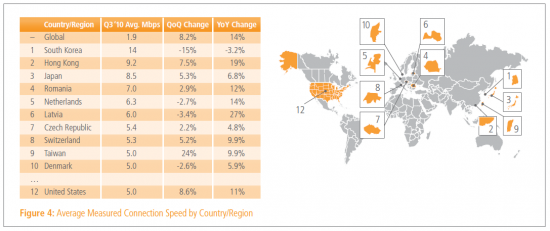 Totodata Constanta intra in TOP 50 orase din lume, fiind singurul oras din alta parte decat  Hong Kong, Japonia, Coreea de sud, cu o viteza  medie de internet de 8,8 Mbps, dar fiind si cel mai rapid oras din Europa. Urmeaza Timisoara si Iasi in acest top, iar tot cu orasele astea ne mandrim ca putem atinge peak-uri de 30 Mbps in viteza conexiunilor fiind cu toate cele trei orase in top 50 cele mai rapide orase din lume care ating viteze mari de download (Average Peak Connection Speed, Top Global Cities).
Cam jumatate din Romania are o conexiune de tip broadband acasa. Da si clicknetul se numeste tot broadband, ala de peste 4 mega.

Si daca ziceam de Romtelecom, iata ca avem internet mai bun decat statele unite, 91% din conexiuni fiind de peste 2 mega pe secunda. Ce inseamna internetul mobil pe 3G, dar si ADSL-ul cu minim 4 mbps.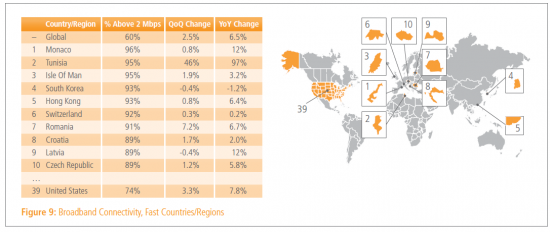 De observat ca Statele Unite abia daca au 74% din conexiuni peste 2 mbps. Si asta se vede in momentele in care vrei sa faci ceva pe net in state.
In schimb cand vine vorba de internet mobil, conform Akamai, baietii din Republica Moldova ne bat la curul gol, la trafic, viteza de transfer si orice.
Si chiar daca ne laudam cu prea multe cifre, viteze de download si altele, oricum suntem prea nesemnificativi.